Blog
Make America
Dinner Again
At Black Sheep, activating people around things that matter looks different every day. Sometimes we're rallying big crowds for an event. Sometimes we're championing our clients' causes by counting impressions and reach. Lately, we're sitting down for dinner with a few strangers in our space to talk politics.
If the idea of inviting a bunch of people you don't know to dinner and immediately bringing up the last election sounds like a twisted nightmare to you, there are a couple of ladies you should meet.
In 2017, following a heated presidential election (you know the one), two women created Make America Dinner Again (MADA), exploring the idea that dinner and thoughtful conversation could bring people together… again.
Justine Lee and Tria Chang had the radical idea that if we want folks to come together in a politically divided culture, maybe food (and wine) might help. After attending one of the dinners and their SXSW panel in Austin this year, Managing Director Jess knew this was a kind of magic perfect for Houston. Our built-in diversity, unique love of good food and sprawling neighborhoods make us both uniquely suited for and in desperate need of nights like these—where everyone brings their own perspective, nervous jitters and a bottle of wine and leaves with slightly more opened hearts and minds.
"There are many avenues to protest, to donate, to fight, to be heard; Make America Dinner Again is an avenue to listen."
—MADA Founders
How It Works: The Setup
Jess hosted the inaugural dinner in early July 2019 in the Black Sheep space with co-host and Account Manager Natalie. We invited ten strangers of a wide variety of perspectives and leanings. Our group included people from all industries and walks of life—federal prison healthcare, immigration and business law, oil and gas, higher ed and nursing, to name a few.
We gave each guest a few conversation starters, a meal (courtesy of our friends at Down House), dessert (courtesy of AshleyCakes), and most importantly, a tiny cowbell to break the tension if the need arose.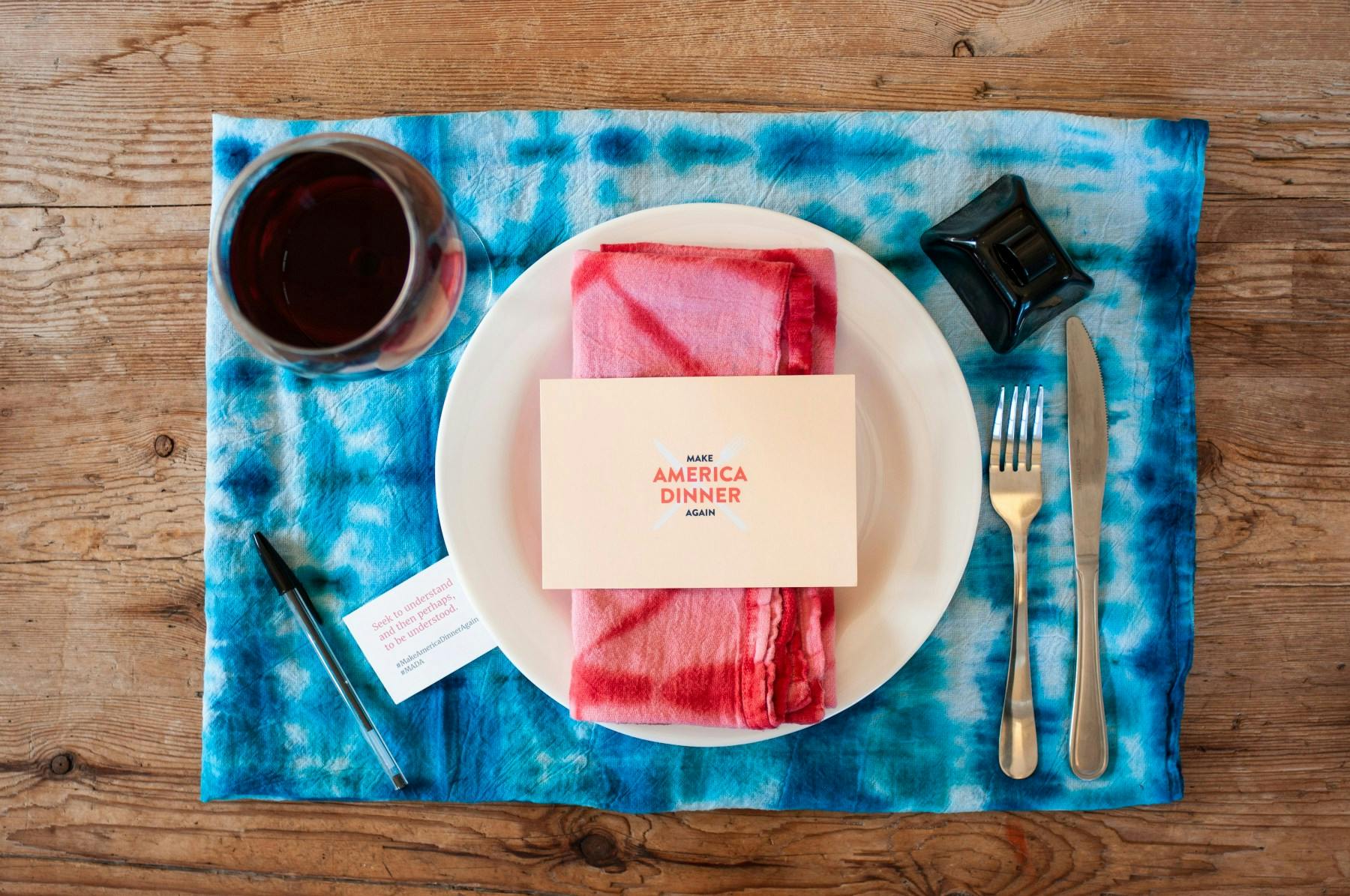 We set the tone with some ground rules, and then we asked each guest to name one thing they hoped would happen along with one thing they were afraid would happen.
"I'm hopeful we'll have good dialogue." / "I'm afraid no one will agree with me."

"I'm hopeful I'll see the ways we're all the same." / "I'm afraid I'll say something and wished I'd phrased it differently later."

"I'm hopeful I'll make a new friend." / "I'm afraid I'll get amped up."

"I'm looking forward to seeing our differences." / "I'm afraid of amped up people."
—MADA Guests
When you're bringing together a group of strangers to talk about politics, there can be a lot of feelings. We all HOPE that we'll see the humanity in each person, but we all FEAR that won't be the case.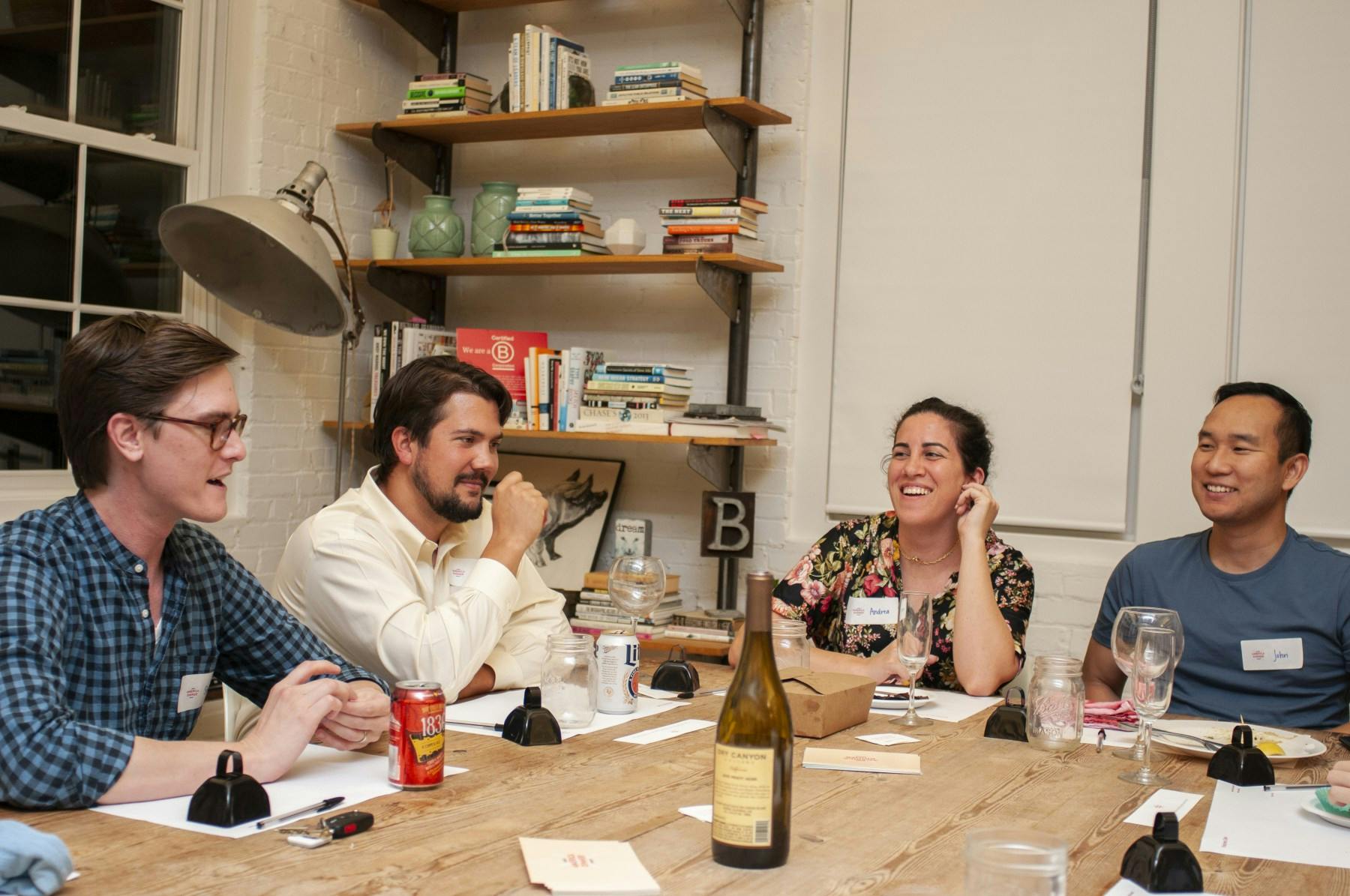 The Conversation
The defining quality that separates MADA from your typical awkward political discussion is structure. Turns out it's a lot easier to talk about the hard stuff when we treat each other with basic politeness and favor nuanced stories over blanket generalizations.
"It was nice to be able to have this conversation where even when it was heated, we listened and didn't interrupt."
—MADA Guest
Hot-button headlines and big-picture issues alike, we waded into murky territory together with vulnerability, bravery and a mutual respect. Guests shared their uncomfortable stories, questions they'd previously been afraid to ask, and the critical moments in their lives that helped shape their current beliefs.
Emotions ran deep, and things got passionate, but every word was spoken with honesty and dignity, and not one this-is-too-much-for-me cowbell was rung. At the end of the night, we'd covered everything from immigration to reproductive rights to the origin stories of 2016 votes. We laughed. We shared. We disagreed, sometimes very strongly. And we all survived. We didn't solve all of America's problems in one dinner, but we all took away a little more perspective and grace.
"I'm already thinking about who I am bringing to my own table. [As a teacher], I think about myself as someone who facilitates dialogue, but when I was participating, it felt different."
—MADA Guest
We are so grateful to be a part of this experience. To take what Justine and Tria have thoughtfully and masterfully created, and be with strangers in Houston in their journey to uncover humanity.
—Jess and Nat
P.S. Want to join a future dinner in Houston in October? Sign up here.
Want to join a dinner (or start a chapter) in your city? Visit makeamericadinneragain.com.